An Evangelical Free Church
We have been waiting for you!
It's true, because we believe that God has a place for you in our congregation and we can't wait to meet you!
​
We are an Evangelical Free Church.
We love Jesus.
We know that God gives us grace every day.
Sunday: 10am
Saturday: 7pm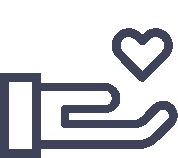 "You must each decide in your heart how much to give. And don't give reluctantly or in response to pressure. For God loves a person who gives cheerfully."